04
December
Market
The opportunities opened up by natural gas for vehicles
Thierry Trouvé, Chief Executive Officer of GRTgaz, talked to French daily newspaper "Libération" about his vision for natural gas for vehicles (NGV) as a sustainable fuel, regionally and in Europe.
The EU has set ambitious targets to reduce greenhouse gas emissions and improve air quality by requiring car makers to cut their carbon emissions by 40% by 2030 compared to 1990.
NGV/bioGNV: main alternative to di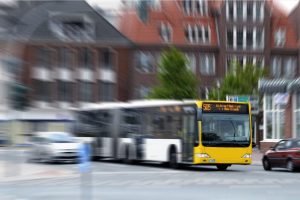 esel fuel
Performance. According to Thierry Trouvé, "electricity and NGV are alternatives to oil that can be used simultaneously, on a large scale, in the short to medium term." While electrical energy offers many advantages for everyday travel, NGV is still better suited to medium- and long-distance transport.
Delivering a strong economic and operational performance, for many years, gas has made it possible to reduce the environmental impact of the transport sector. This fuel is increasingly used for passenger transport by coach with one in three new French buses running on NGV.
NGV/BioGNV: an environmental opportunity
Energy self-reliance. "One of the advantages of NGV is the greening of gas," explains the CEO of GRTgaz. BioGNV – a "biomethane fuel" produced from organic waste – reduces carbon emissions by 80% compared to diesel fuel, to levels close to those of electricity.
As the annual waste of 7,000 inhabitants is enough to produce the equivalent of the fuel consumed by a bus for one year, bioGNV is a workable solution for regional energy self-reliance.
NGV/bioGNV: an economic opportunity
Employment. "The launch of a new gas-powered engine and the return of some manufacturing activities show that the ecological transition is an opportunity and creates jobs," explains French Transport Minister, Elisabeth Borne, a fact confirmed by the French Natural Gas Vehicle Association (AFGNV), which estimates that as many as 30,000 people could work in the sector by 2020.
By retaining the gas fuel tax and subsidies for the purchase of gas-powered vehicles, the French authorities are sending a positive signal to actors engaged in the supply and use of this fuel of the future.
Read the article in Libération (French): www.liberation.fr/evenements-libe/2018/02/04/le-gaz-naturel-vehicule-plus-qu-une-solution-une-opportunite_1627383
Learn more about the AFGNV(French) www.afgnv.info
Learn more about the energy transition (French): www.ecologique-solidaire.gouv.fr/loi-transition-energetique-croissance-verte
Find out more about CBM products and services www.cbmcompany.com/fr/produits